Skip Global navigation and goto content
Swimming Pool Inspection Program
Contact Us
 

Fax

850-595-6774
 

Mailing Address

Downtown Service Center, 1300 West Gregory Street, Pensacola, FL 32502 

 

 

 
Inspections are conducted twice a year and entail, but are not limited to: 
Water Quality and Chemistry

Pool Cleanliness and Safety Measures

Proof of contract with Pool Service Technician or proof of Pool Operator Training

Pool Maintenance Records

Location and condition of bathroom facilities
If you wish to open a public swimming pool you will need an initial operating permit: 
An Operating Permit is issued after: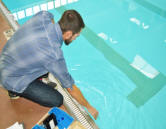 Permit Application through our department Swimming Pool Operating Permit

(13.7 kb; pdf)

The jurisdictional Local Building Department must review and approve plans AND inspect the pool construct prior to the inspection of the pool for an Initial Operating Permit by the Florida Department of Health in Escambia County.
Proof of "required training" through the Department of Health. All persons employed to service the pool must have proof of the Public Pool Service Technician Certification (23KB; pdf).
Location & Contact Information  
Downtown Service Center
1300 West Gregory Street
The Swimming Pool Inspection office is open
Monday - Friday from 8 AM to 4:30 PM.
Call 850-595-6700 to file a complaint or for more information.